The Ultimate Guide to Serbian Food
Welcome to Taste Serbia Food Tours! Discover Serbia and eat like a local. Tours guided by Filip, Djordje and Goran, local guys who can show you the best way to taste & feel real Serbia.
All you need to know about Serbian Food
Ćevapčići
Ćevapi (or ćevapčići) are meat finger grilled portions of minced meat. Serbian ćevapčići are made of either beef, lamb or pork or mixed.
They are usually served of 5-10 pieces on a plate or in a flatbread, often with chopped onions, kajmak (Serbian sour cream), ajvar, cottage cheese, minced red pepper and salt. Čevapčići are part of almost all our food tours.
Pljeskavica
Pljeskavica is a popular patty dish, second only to ćevapćići. It is often served with kajmak (milk cream), ajvar sauce of peppers and urnebes (mixed spicy sauce – cottage cheese and chili powder).
Leskovačka pljeskavica (pljeskavica from Leskovac) is one of the most famous types in Serbia and is usually made of beef or pork, very spicy and served with onions.
Pečenje
Pečenje basically means roasted meat (whole roasted pork, lamb and goat), and it's one of the most popular dishes in Serbia, specially during all types of celebrations such as weddings or slava.
Pečenje can sometimes be very greasy, especially when served cold, which is not uncommon.
Karadjordjeva
Also referred to as "the girls' dream", Karadjordje's steak is a dish named after the Serbian Prince Karadjordje.
It is a rolled veal or pork steak, stuffed with kajmak, breaded and baked (or fried). It is served with roasted potatoes and tartar sauce.
Soups, stews and other "spoon" dishes
Sarma
Sarma is basically ground beef and rice rolled into cabbage, greens or grapevine. In Serbia, the most popular is the cabbage sarma.
Some people prefer it with sour cream (pavlaka), while others like garlic with it.
Fish paprikaš
If you're in a fish restaurant at the river, make sure you try the traditional Riblja čorba or Riblji paprikaš (fish stew with tomato juice and paprika).
Even people that don't really like fish enjoy this dish.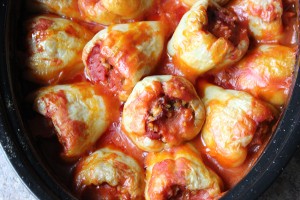 Punjene paprike
Punjene paprike (stuffed paprikas) is a dish made of paprika, stuffed with a mix of meat and rice in tomato sauce, the ingredients consisting of green or red capsicums, eggs, spices, salt, tomato, minced meat and rice.
Škembići
Škembići (Tripe soup) comes in many varieties in the Eastern European cuisine. In Serbia, Škembići is one of the oldest known dishes, dating to the 13th century. Škembići are Tripe in vegetable stew with herbs, served with boiled potato.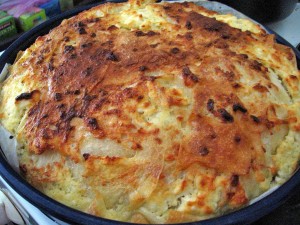 Gibanica
Gibanica is a cheese pie typical for Serbia. It's one of the most recognizable types of Serbian pastry.It is made of layers of thin dough with cheese, and usually an egg poured over.
Burek
Burek is a family of baked or fried filled pastries of Ottoman origin made of a thin flaky dough known as yufka (or phyllo).
It can be filled with cheese, minced meat, or mushrooms. There are also some modern variations without any fill, and filled with cherry.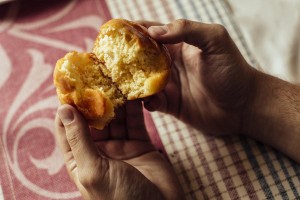 Proja
Proja is a Serbian dish made of cornbread. It used to be popular in times of widespread poverty, mostly before the 1950's, but is now a common everyday meal.
It is often mistaken with projara, a somewhat fancier variant of proja.
Komplet Lepinja
Lepinja is a type of flatbread (not so flat, though), which is hollowed out, so that kajmak (100% milk fat spread) and battered eggs can fill out the insides.
And like there's not enough fat just so, as soon as it comes out of the oven, it is soaked in hot roast lamb gravy. Read more about Komplet Lepinja on our blog.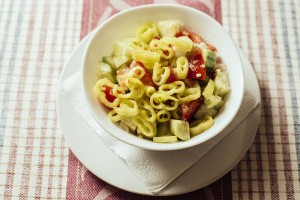 Šopska/Srpska
These two types of salad are the same, with a single ingredient difference (cucumber or cheese). There are different interpretations, so it would be best to ask the waiter what does it have. Mainly it's Tomato, onion, paprika, cucumber, hard white cheese.
Kajmak
Кајмак is a creamy dairy product, similar to clotted cream, very popular with Ćevapćići, Pljeskavica, Prženice or Somun (flatbread).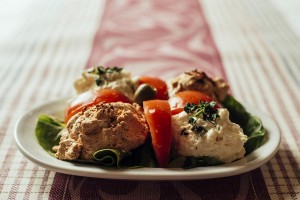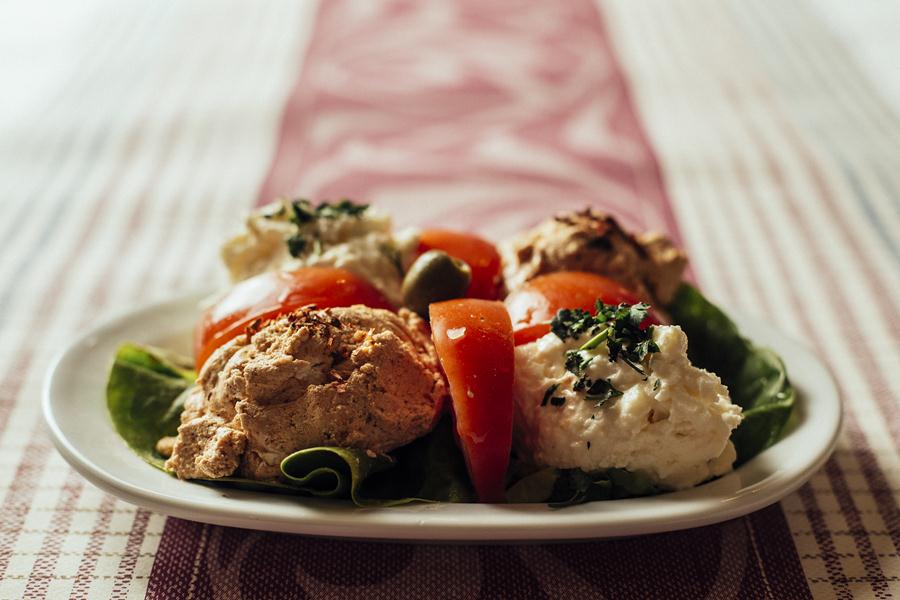 Urnebes
Urnebes (translation: chaos, disorder) is a type of salad characteristic of Serbian cuisine prominent in the city of Niš and southern Serbia. It is made of cheese and hot chili peppers, with salt and other spices.
In Southern Serbia, which is its likely origin, it is made with chopped peppers, while ground dry peppers (aleva) are used elsewhere, giving it a red color. Depending on the type and amount of peppers, urnebes can be mildly to very hot.
Usually, it is served as a side dish with grill. Sometimes garlic is used.
Ajvar
Ajvar can be consumed as a bread spread, a side dish, or as a salad. It is made principally from red bell peppers, with eggplant, garlic and chili pepper.
Ajvar originates in the Serbian cuisine, and was therefore long known as "Serbian salad" [1] or "Serbian vegetable caviar".[2] It becаme a popular salad (side dish) throughout Yugoslaviaafter World War II and is nowadays popular in the Balkans.
Original homemade ajvar is made of roasted peppers, while some industrial producers use cooked peppers, which leads to a lower quality. Depending on the capsaicin content in bell peppers and the amount of added chili peppers, it can be sweet, piquant (the most common), or very hot.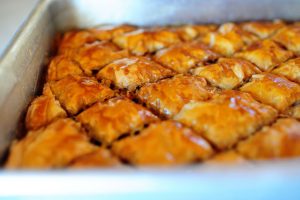 Baklava
Baklava is a rich, sweet pastry made of layers of filo pastry filled with chopped nuts and sweetened with syrup or honey. It is characteristic of the cuisines of the former Ottoman Empire and much of Central and Southwest Asia.
Krofne
Krofne are doughnuts filled with jelly, marmalade, jam or chocolate. They can also be filled with custard, or cream, but that is usually less common.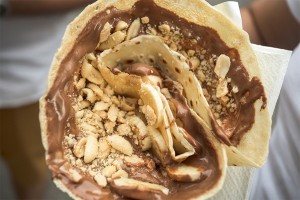 Palačinke
Palatschinke (plural Palatschinken) is the Austrian name of the thin, crêpe-like variety of pancake common in Central and Eastern Europe. In Serbia they are a very popular sweet, served with Chocolate cream, ground walnuts, ground biscuit, or honey. There are many palačinkarnice (pancake shops) where you can buy them.
There are also salty version with various types of ham, cheese, etc.
Tufahija
Tufahije are a Turkish-heritage Bosnian-Serbian dessert made of walnut-stuffed apples stewed in water with sugar. It is very popular in Bosnia and Herzegovina, Serbia, Croatia and Macedonia. Tufahije were introduced to the Balkans during Ottoman rule, although the dessert originated in Persia.
Rakija
The best known Serbian drink is Rakija a strong brandy (most common are from plum – Šljivovica, Kajsijevača – from apricot, Dunjevača – from quince, and Vilijamovka – from pear). There are also other variations, such as cherry, healing herbs (Stomaklija), and honey  -Medovača. The alcohol content varies between 30% and 40% normally, but some private distillers get up to 50%.
Turkish Coffee
Turkish coffee is a style of serving coffee. Roasted and then finely ground coffee beans are boiled in a pot (džezva) and served in a cup where the grounds are allowed to settle. Sugar is added to taste. This method of serving coffee is found in the Middle East, North Africa, the Caucasus, and the Balkans.
In Serbian communities, it may be called simply domaća kafa 'domestic coffee' kafa 'coffee'. It is often called simply "Turska" when the Serbs drink it in the "kafana" (coffee house). Especially strong coffee  (without sugar and milk) is often referred to as 'Turkish' or 'black' coffee. It is a very popular drink in Serbia, and the Serbs drink it during meetings with friends and family and at other social gatherings. It may be consumed 3-5 times (or more) per day.
Serbian Wines
There are five major wine regions in Serbia: Fruška Gora, Vršac, Oplenac, Smederevo and Župa. The most popular wine types are Bermet, Riesling, Merlot, Pinot, Chardonnay,  Cabernet Sauvignon…
Serbian Beers
There are several breweries in Serbia making various domestic and international types of beer. The most popular domestic ones are Jelen (Deer) and Lav (Lion), but the ones we recommend would be Kabinet and Dogma.