What to eat in Belgrade today?
Taste Serbia gives you the best tips for eating out in Belgrade. Read carefully, this is golden.
You are in Belgrade, Serbia, you are hungry, you don't know what to eat in Belgrade, and you don't know who to ask. Don't worry, because you are just reading the right page. We will not make a big introduction to the menu. If you've come to this site, it means you're already hungry, so we'll go the best way:
Komplet lepinja is a loaf of bread (flatbread usually baked on wood) with a special sauce called pretop, eggs, and kajmak. Pretop is a soup formed by baking meat, a combination of salt and delicious fat. Kajmak is a fine milk product, it's tasty and salty. It looks like butter, but you can eat a lot more.
A loaf of bread is cut in half, the soft part of bread is pulled out, and that part is replaced by eggs and kajmak. After baking in a heated oven, it all overflows with pretop. Yogurt is recommended, especially if you eat this for breakfast.
Barbecue in Belgrade – recommended meat for barbecue lovers
The meat prepared on the grill is tastier than the meat prepared otherwise. It is not just a common barbecue. In southern Serbia, there is a grill cult that spread throughout the country today. Meat preparation, type of meat, a wood used for the preparation of fire, spices, special bread, and mastership is crucial to this barbecue.
Here's what we recommend from the grilled menu: ćevapčići, pljeskavica, chicken white meat and chicken skewers, filled chicken drumstick, sausage.
Ćevapčići comes in many variations. The main division is on Leskovac ćevap, Banja Luka ćevap, and Sarajevo ćevap. Each of them has its characteristic taste and admirers. Leskovac ćevap consists of nice selected beef meat with a special preparation before and during roasting. The Banja Luka ćevap is known for its "tiles" shape and is most often served in a soaked flatbread, with an inevitable onion. Sarajevo ćevap is popular outside of Sarajevo and Bosnia because of its fantastic taste and it is mandatory to serve in somun or half of somun. They are known as "ten in a half with onion", as a classic representative of the Sarajevo.
Altogether, if you are wondering what to eat in Belgrade – ćevapi would be the first pick.
Pljeskavica is a grilled mixture of pork, beef and lamb minced meat with domestic spices. Like ćevapi, it's best to eat it with the onion and kajmak. In addition to these supplements, the ajvar (relish paprika) and urnebes (hot and spicy salad) are recommended.
In order to understand better what is pljeskavica, understand this as Serbian hamburger. It's a form of a big burger – thin, large burger. Preparing on barbecue takes 7-10 minutes with baking on both sides. We recommend eating immediately after baking to feel the special taste of the meat that is still smoked.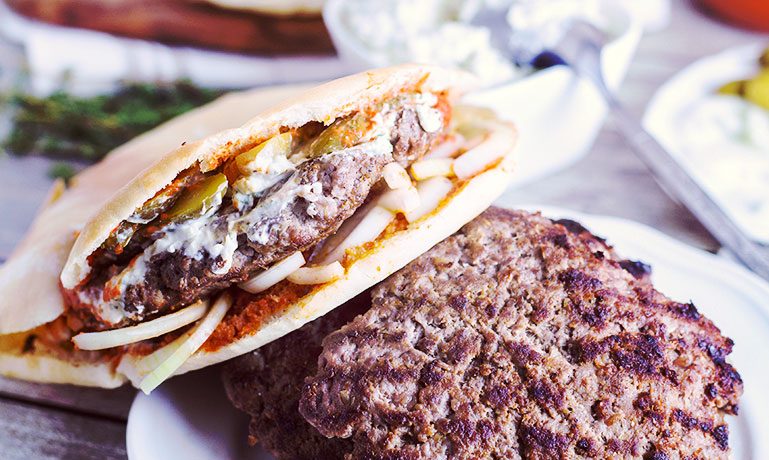 Specialties under the sač
Sač is a special ceramic traditional dish that is used for preparing various meals. The food is first placed in the basic bowl (crepulja) with lid (sač). When everything is set up, live coals come over that. Any food that is cooked like this has a different, better taste. This kind of preparation is both traditional and healthy. All meals prepared in the kitchen can also be prepared in this way. TasteSerbia recommends all pies and burek, beef, and ribs under the sač.
Pies under the sač (Pite ispod sača) – If you're a pie lover, this is the right choice for you. In Belgrade, you can find pies with meat, cheese, spinach, potatoes, mushrooms, and sweet pies with cherries and apples. In addition to the pie, there is also a special type of pie called Burek.
Burek under the sač (Burek ispod sača) – Burek is a type of pie. It originates from Turkey, but the recipe was kept in Serbia when the Turks were present here. Like all pies, it can be with various ingredients, but the original recipe is burek with meat and burek with cheese. We also recommend these two types. Keep in mind that the taste is much better with yogurt.
Ribs under the sač (Rebarca ispod sača) – The ribs are excellent and are usually prepared in combination with onions, vegetables, spices and milled peppers ( chili or mild chili taste). Potatoes can be added, and everything is cooked in their own juice.
Leskovačka mućkalica – grilled and boiled meat with vegetables
This is a tasty specialty for barbecue lovers who also want boiled meat in vegetable juice. The meat (pork neck) is first cut into cubes and rolled into spices. After that, the meat is wrapped in bacon and baked on the grill. In the meantime, a mix of vegetables is prepared with onion, paprika, tomato juice, and cook until liquid is evaporated. Grilled meat is added and cook until the mixture is seated together.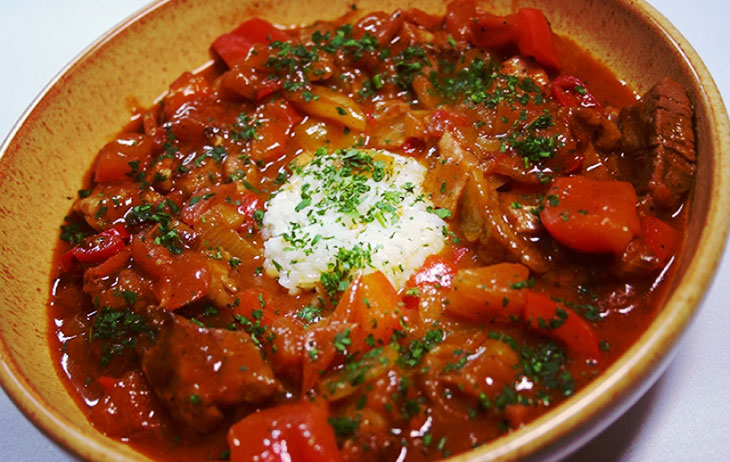 Sarma – do not go without tasting it
Sarma is the food that is prepared by rolling the ingredients into the leaf of grape or cabbage. In Serbia, both methods are used, but cabbage leaf is used more often. Because of Serbian urban tradition, they often say to strangers:
"Otiš'o si, sarmu pro'bo nisi!"

In english it means: "You left, but you haven't tasted the sarma".
The basic ingredients for sarma are minced beef meat, white rice, garlic, meat from ribs, smoked bacon, pepper. The filling is made of these ingredients and placed in a single leaf of cabbage. For better taste, sour cabbage is used for sarma. Wrapped leaves are put on a dish and all are cooked for a while on low heat.
The best taste is achieved by spilling over sour milk on the side.
Tufahija is for sweets lovers
Tufahija is an old dessert recipe popular in Serbia and surrounding countries. It's an apple with walnut and sugar filling. First, the apple is cooked in sugar water, then filled with milled nuts, whipped egg whites cream, and vanilla sugar. After filling, apples are baked and finally sipping with syrup.
After all the meat, grilled and cooked, after komplet lepinja, sarma and burek, this dessert is a real happy ending. We recommend a strong black coffee in company with tufahija and Taste Serbia.
Taste Serbia is a great way to get to know all tastes, places, and dishes from Serbia. If you don't know what to eat in Belgrade and want to try the specialties described in the text, book our Foodie Belgrade Tour. We will help you to quickly and safely meet the best places and try the best food from Belgrade and Serbia.