Ajvar – Veggie caviar with a twist
This heavenly hotchpotch of red bell pepper, eggplant, and oil tastes so rich and luxurious that it is befittingly referred to as Vegetarian caviar. What makes it so distinct is the smoky flare stemming from grilled vegetables, and, above all, the traditional way of making it at a family hearth.
Winter is a holiday and vacation season in Serbia, hosting a myriad of slavas (honourings of patron saints), New Year's Eve, Christmas, and yet another New Year's Eve (the Julian calendar one). In other words, this is the season of feasts, and no feast can go by without ajvar – an inevitable resident of every pantry in Serbia. At autumn, as soon as vegetables ripen, the air in seemingly all of Serbia, city and country, oozes the distinctive smoky, yet sweet scent and almost palpable taste of broiled peppers. State-of-the-art Bosch ovens and rustic Smederevac stoves alike, blacken red pepper skins, making the insides soft and supple. Diligent mothers, grandmas, and aunts then adeptly peel the skin off, grind and mash the tender flesh of peppers, eggplants and garlic together, add their own secret ingredients, and seal the jars. Their pantries once again brighten up with the fiery colour of the Serbian salsa.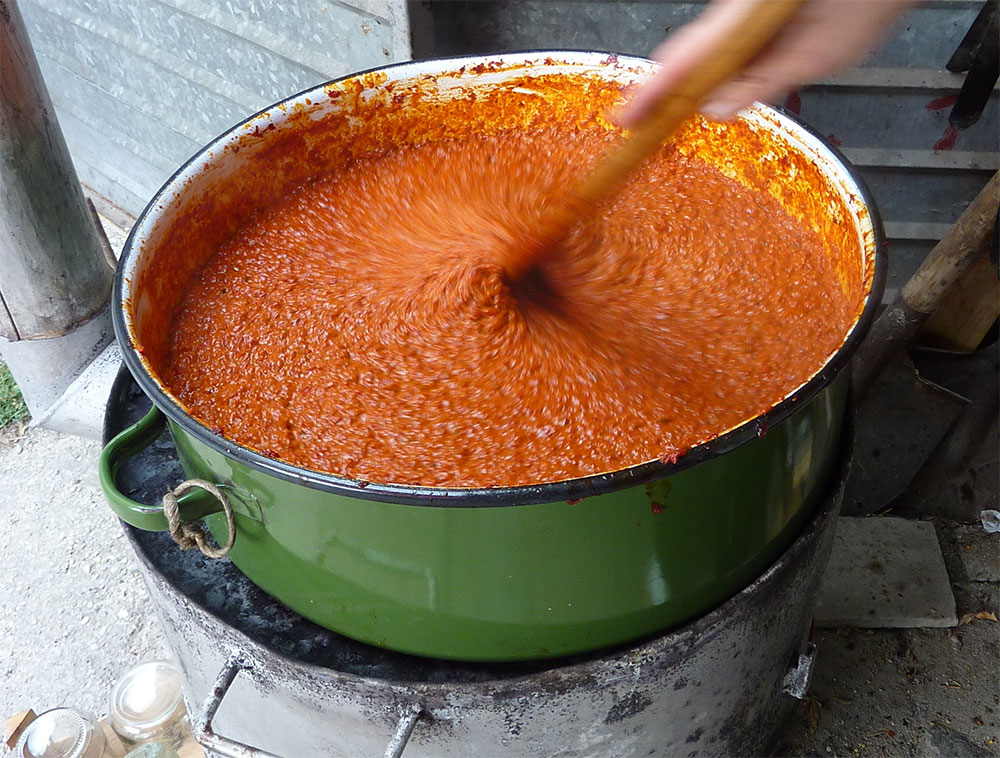 Regardless of an occasion, ajvar is a must on every table. As a spread, it perfectly complements proja (cornbread) and assortment of cheese for breakfast. Just as well, it not only garnishes grilled meat, but contributes to the smoky blend of the two. By the same token, a true gourmet wouldn't fail to relish the combo of ajvar and smoked, prosciutto like meat – it's simply divine.
If you are a foodie, done with sightseeing and looking for new things to do in Belgrade, check out our culinary food tours that will take you to the best restaurants offering local food, or straight to the pantries in Vojvodina or Šumadija where you can get a hands-on chance to taste the best food in Serbia.