Things to do in Belgrade for little or no money whatsoever
Besides historical sights and well-known nightlife, another reason why tourists choose Belgrade is its affordability. Serbia is a developing country striving to join the European Union, but until it has reached that goal, we can all enjoy blissfully low prices of the Serbian standard of life.
So if you are a budget traveller, here are suggestions for things to do in Belgrade and how to make the most of your day, with spending (or saving) the change in your pocket…
Go on a free walking tour. These tours start at Republic Square, you cannot miss it, there is a huge monument to Knez Mihailo riding a horse. The tour guides will take you to the most prominent sights within a walking distance from the Square, and there are truly lots of them in the area (Knez Mihailova Street, Saborna Church, Kalemegdan Fortress, the Zoo, Skadarlija quarter, etc.). Another, and more peaceful, free walking tour is around Zemun, an old part of Belgrade, at the bank of the Danube river. Find more info here: http://www.belgradewalkingtours.com/ and http://belgradefreetour.com/
However, if you are not so much in a touristy mood, and would like to avoid large groups, you can book a greeter. A greeter is not a professional tourist guide, but more like your personal friendly local, who will welcome you in Belgrade and spend time with you, sharing his or her experience, opinion, tips, and, most of all, love for Belgrade, completely free of charge. Sounds just lovely, right? Book your greeter here http://belgradegreeters.rs/en/
Moreover, it you are a real lone wolf and like to experience the city all by yourself, go on a tour of your own by taking the tram number 2. The tickets for public transport can be bought at any news stand or Shop-and-Go market. The best option for tourists is a daily ticket, valid for all bus, tram, and trolley lines (somewhat higher that 2 €, but must be paid in dinars, like everything else in Serbia, make sure you visit an exchange office first) so you can hop on and off, wherever it pleases you. Tram 2 circles around the very heart of Belgrade. You can get on at the Main Railway Station, and it will take you through Savamala, the new cultural hub, along the Danube River, and up to the Kalemegdan Fortress (on your left) and Knez Mihailova Street (on your right) where you can take a break. If you go right, you'll enter the hustle and bustle of the main pedestrian and shopping zone, and if you go to your left, on the contrary, you'll immerse yourself in the peace and quiet of the greenery, and astonishing views from Kalemegdan. Or you can skip this for now and continue your tram ride down to Dorcol and Skadarlija, the bohemian quarter, and then again up (yes, Belgrade is a bit hilly) to the monument to Vuk, the great Serbian luminary. The tram then takes you along King Alexander Boulevard, down to Slavija Square, and finally back to the Main Railway Station. Wherever you choose to take a break, you'll be able to find a point of interest nearby, literally! Therefore this ride is a great way get familiar with what the centre of Belgrade offers, and it offers so much that one day might not be enough.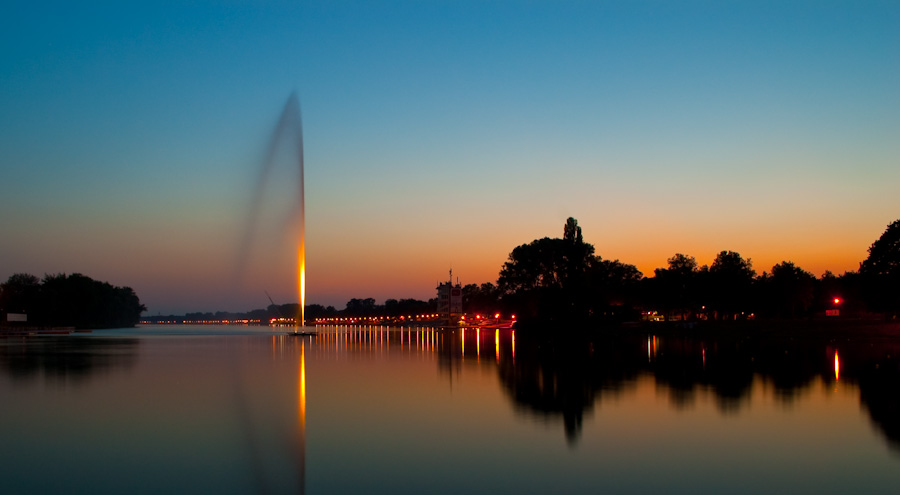 After you get to know Belgrade downtown, feel free to explore further. For instance get on a bus 37 at the Republic Square and it will take to Ada Lake, artificially made on the Sava River, where you can make a long stroll and rest at one of numerous cafes, lying on a deck chair near the water, sipping coffee for 1€. In the summertime the lake brims with swimmers, so you as well might be enticed to dip in. Regardless of the season, you can always rent a bicycle or rollerblades at Ada, (for less than 1€ per hour, or 4 € for a daily hire) and make your holiday more of an active one.
Another thing to bear in mind is that you should try to avoid global brands and franchises, since the prices there won't be much different from those in other European capitals. Feel free to dine on street food – there are bakeries, grills and pizza corners at every step. You don't even have to buy bottled water – tap water in Serbia is perfectly safe. You can just kindly ask salespeople at fast food restaurants or cafes for a glass of water, or get a refill at numerous fountains around the town.
And if you want to spend some money, spend it at local, domestic-brand stores and restaurants – you will surely get the best value for money.